Next day on 22nd Jan 2009 we started for Alibaug and visited Alibaug seashore, which was very beautiful & pleasant. After Alibaug visit, we proceed for Choul via Datta Mandir hill and then Shitala Devi Mandir. Then proceeded for Rewadanda and had our lunch. Then visited Birla mandir, Since Mandir was closed so we proceed for Kashid Beach .Kashid is a beautiful place on Murud road after taking rest for two hours we came back to VIKRAM VINAYAK MANDIR (SALAV) /BIRLA MANDIR and performed Ganesh Darshan and visited surounding garden .We proceed for return journey .We reached Dombivli at 9.30 PM .Mr Bhahulekar took resposibilty to manage tour and Mr Joshi arranged our stay in Kihim .
Shitala Devi Mandir at Choul
Group Members at Shitala devi Mandir Choul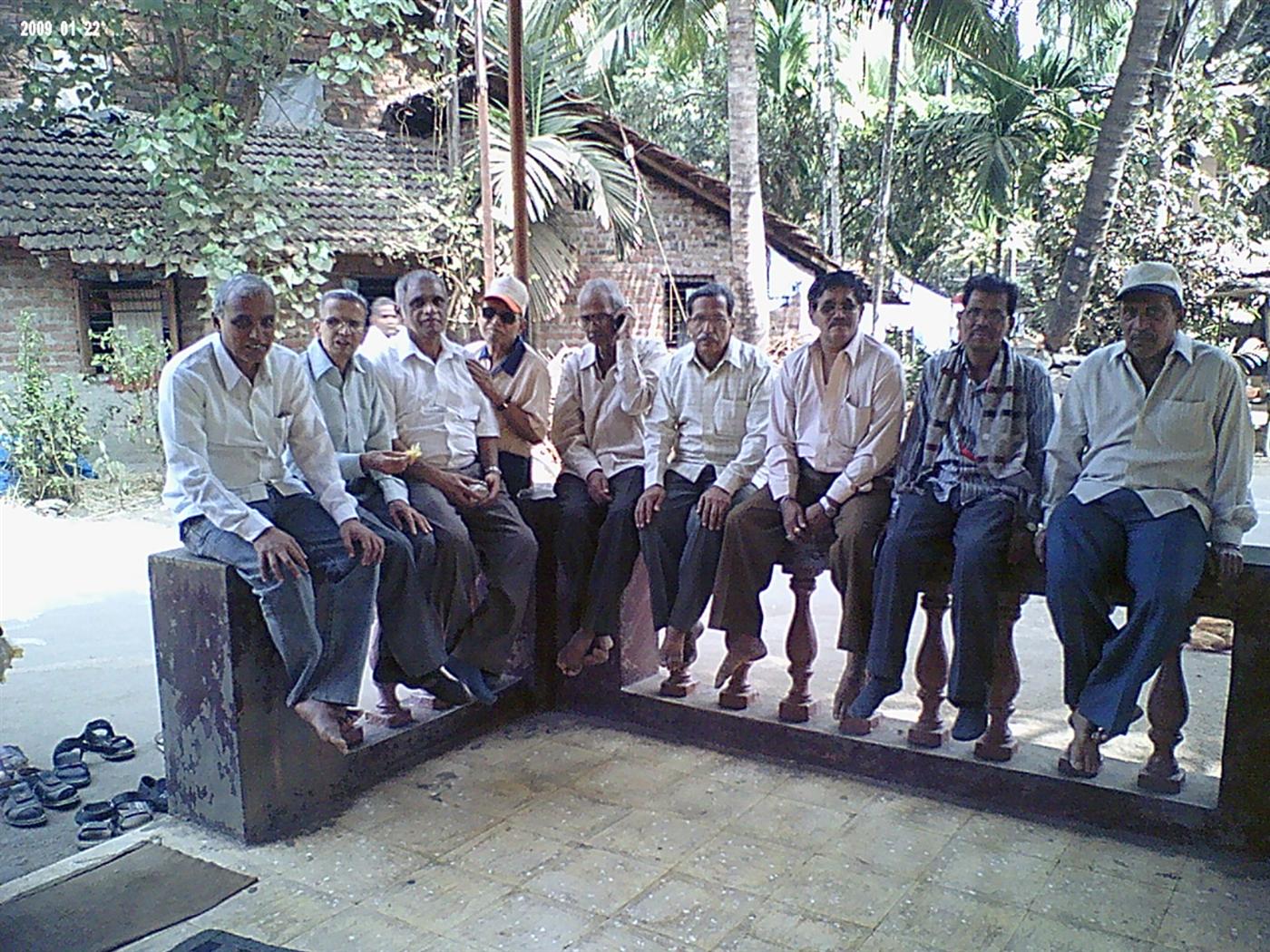 SHITALADEVI TEMPLE (CHAUL)On Alibag-Revdanda Road, 14kms away from Alibag is Chaul and from there one can hire on autorickshaw to reach this ancient temple-Originally it was built with a tiled roof and wooden structure. In 1990, it was renovated into a modern structure. It is a greatly revered shrine. VIKRAM VINAYAK MANDIR (SALAV) /BIRLA MANDIR 20 kms. from Alibag, across Revdanda Bridge, to the left is this beautiful temple within the Vikram Ispat premises.
The towering dome in exquisite white granite is visible from a long distance. Situated on a small hillock, you can walk up to the temple over well-paved stairs. The surroundings of the temple are made up of a well-planned garden and colorful fountains. The prayer hall is open on all sides and the roof is made of transparent Polymorph sheet. The temple has idols of Shree Radha-Krishnna, Shree Shiv-Parvati, Goddess Druga and Lord Surya. Life-size statue of Late Aditya Birla Stands in the garden. The pooja and prayer can be attended at 9am and 7.15pm every day. Entry into the temple premises is open from 6am to 11.30am and 4.30pm to 9.pm only. ST buses, 3 or 6 seaters are available from Alibag and 3 or 6 seaters can be hired from Revdanda Bus Stop .