Shrivardhan,
Shrivardhan the hometown of Peshwas - the erstwhile rulers of Maharashtra, is one of the ancient towns in Maharashtra. It is famous for its forts, temples and golden beaches. Shrivardhan is located about 130 km west of Pune. Major point of attraction is the ancient Shri Laxminarayan Temple - the main temple of Peshwas built in Hoysala style and the Shrivardhan Fort, situated on the east of Rajmachi Fort. Other places of tourist interest include the statue of Balaji Vishwanath Peshwa - built here in 1988; a huge house of Balaji Bajirao (third Peshwa), built in 1750; Harihareshwar (5 km), Kondivli Beach, Kusumdevi Temple, Somjai Temple, Bhairavnath Temple and Jivaneshwar Temple. A stroll along the tranquil and picturesque beach of Shrivardhan will be an enchanting experience. The nearest railway station is at Mangaon (65 km). Shrivardhan is about 200 km to the south of Mumbai by road. Goregaon (60 km), on Mumbai-Goa highway, is a major town nearby.
Balaji Vishwanath Peshave at Shrivadhan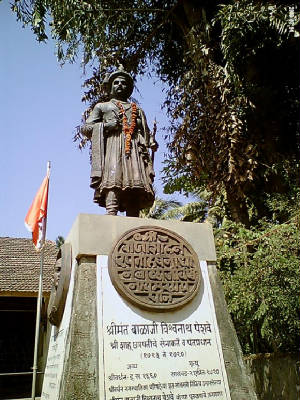 Balaji Vishwanath Bhat
(1680 –
April 2
,
1719
), better known as
Peshwa Balaji Vishwanath,
was the first of a series of hereditary
Peshwas
(
Marathi
for Prime Minister) hailing from the Brahmin family who gained effective control of the
Maratha Empire
during the eighteenth century. Balaji Vishwanath assisted a young Shahu to consolidate his grip on an empire that had been racked by civil war and persistent attack by the
Mughals
under
Aurangzeb
.
Somjai Devi in Shrivardhan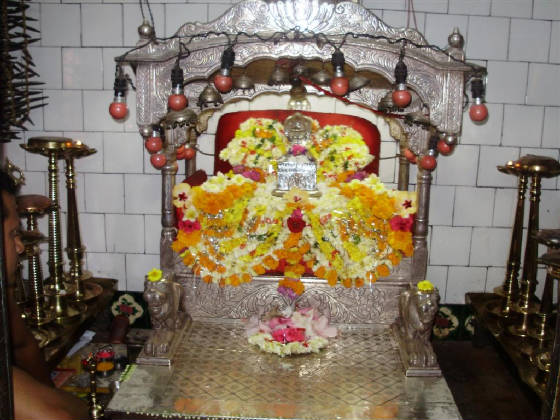 The important temples in Shrivardhan are-Somjaldevi, Jeevanesvar and Narayandev. It is believed that a person with a snake-bite is cured if taken to the Somjai temple. The Jeevanesvar temple is built in Hemadpanti style. Members of the Pesve family used to visit Narayandev temple which is near the Pesve memorial.
Golden Ganapati Pagat Sthan in Diveagar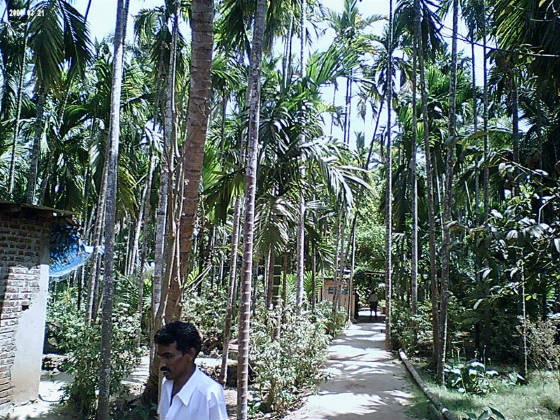 Diveagar is a beautiful and picturesque place. The village is an ancient one with full of history. It is like a strip of land, around 5 by 1 -2 km in dimension. After the Golden Ganesha idol was excavated and established for worship in the old village temple around 8 yrs back it has become a popular tourist destination.Farm land, coconut and beetle nut orchards have become hot properties since then and the realty market is booming here.
The beach here is simply magnificent and view of the sunset is even better
Golden Ganesh On 17th November 1997 (Sankashti Chaturthi according to Marathi dinadarshika) While digging in coconut and bettlenut bagayti of Shrimati Draupadi Dharma Patil, she found approximately 30 Kgs. of copper trunk admeasuring 1.25 ft. in lenghth and 1.5 ft. by breadth. In that trunk 24 carat pure golden Ganesha's mask of 1 Kg 325 gms. was buried in land for more than 1000 years as per expert's opinion. The date found on trunk was Friday, 10th November, 1060. Hence, it was concluded by experts that the mask may be made prior to the date mentioned on the trunk.